<<  1     2     3     4  >>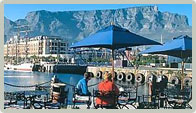 South Africa
SOUTH AFRICA KENYA WITH VICTORIA FALLS
15 Days 14 Hotel Nights
Visit 3 Countries and 13 Major Cities
Kenya: Aberdares 1N, Lake Nakuru 1N, Masai Mara 2N, Nairobi 1N, South Africa: Suncity 2N, Cape Town 2N, Stellenbosch, George 2N, Oudtshoorn, Knysna, Port Elizabeth, Johannesburg 2N, Zambia: Livingstone 1N.
Kenya
Day 01 
Nairobi - Aberdares
Arrive at Nairobi - the capital of Kenya. Proceed to Aberdares. On arrival enjoy the wildlife viewing.
Day 02 
Aberdares - Lake Nakuru
Visit Thomson Falls. Cross the Equatorial Line. Arrive at Lake Nakuru. Visit Rhino Sanctuary and National Park - famous for its flocks of Flamingos.
Day 03 
Lake Nakaru - Masai Mara
Drive through the Great Rift Valley. Arrive at Masai Mara. Enjoy Game Drive and Masai Mara Game Reserve in the evening.
Day 04 
Masai Mara
Enjoy morning and evening Game Drives, get ready for close encounter with wildlife like Gazelles, Elephants, Warthogs, Giraffes, Zebras, Lions, Cheetahs, Leopards, Hyenas and many more in Savana Desert.
Day 05 
Masai Mara - Nairobi
Arrive at Nairobi. Orientation tour includes residential area, Parliament Building and National Museum.
South Africa
Day 06 
Nairobi - Johannesburg - Suncity
Flight to Johannesburg. On arrival proceed to Gold Reef City, a replica of ancient Johannesburg. Visit Old houses, Museum, Gold Mine and watch the demonstrations of Gold being poured and minted. Later depart to Sun City known as "Africa 's Kingdom of Pleasure" as it provides dazzling entertainment for everyone.
Day 07 
Suncity
Enjoy Lost City, Cabanas Water Theme Park, Speed Boat Ride and marvel the interiors in The Palace. Lost City is a fantasy world of Africa's jungles, cliff-tumbling gardens, streams, waterfalls, swimming pools. Visit entertainment centre to enjoy Cas inos. Free time for Shopping or relaxation in the evening.
Day 08 
Sun City - Johannesburg - Cape Town
Arrive at Johannesburg. Flight to Cape Town. On arrival panoramic tour includes Historical Buildings, Malay Quarter, Cable Car Ride to Table Mountain (Subject to weather conditions) and Victoria and Alfred waterfront.
Day 09 
Cape Town - Cape Peninsula - Cape Town
Full day excursion to Cape Peninsula. Visit Hout Bay, Marina's Wharf, take a Cruise to Seal Island, Visit to Cape of Good Hope and a Funicular Tram Ride to Cape Point light house, Visit the Boulders Beach to view the Penguins later visit to Kirsten bosch - Botanical Garden.
Day 10 
Cape Town - Stellenbosch - George
Visit Stellenbosch - City of Oaks famous for its Historic Buildings, University, Vineyards and Old town with Dutch architecture. Arrive at George in the evening.
Day 11 
George - Oudtshoorn - George
Excursion to Oudtshoorn. Enjoy guided tour of the Cango caves, Cango Wildlife Ranch and Ostrich Farm. Arrive at George in the evening.
Day 12 
George - Knysna - Port Elizabeth - Johannesburg
Proceed to Knysna. On arrival take a panoramic view of Knysna waterfront area and enjoy shopping. Board the flight from Port Elizabeth to Johannesburg. Arrive at Johannesburg.
Zambia
Day 13 
Ohannesburg - Livingstone
Flight to Livingstone. On arrival visit to David Livingstone Stone Statue. Enjoy Sundowner cruise on the Zambezi River.
Day 14 
Livingstone - Victoria Falls - Johannesburg
In the morning visit magnificent Victoria Falls - the world's largest waterfall and stroll around the fall. Flight to Johannesburg. Arrive at Johannesburg in the evening.
Day 15 
Departure from Johannesburg
Board the flight for your home town. Tour Concludes.
Meals on Tour :
Day 1 : Dinner
Day 2-14 : Breakfast and Dinner
Day 15 : Breakfast